Travel:
Your trip to Alaska will be in two segments: Your hometown to Anchorage, Alaska and Anchorage to Kenai Riverbend Resort (Soldotna/Kenai).
Once in Anchorage, if you are continuing to Kenai by air, you will need to get your luggage and check in with Ravn or Grant Aviation.  Call us when you arrive.
DRIVING DIRECTIONS, Kenai Riverbend Resort is approximately 3 hours drive away.  From Anchorage go south 85 miles on the Seward Highway until you come to Sterling Highway turnoff, you will take a right at the turnoff; follow the signs to Soldotna, Kenai and Homer.  From the Sterling Highway turnoff, you will go approximately 45 miles to Soldotna.  Don't forget to stop and see the sights!  Once you arrive in Soldotna, you will pass Fred Meyers, go thru the city of Soldotna (Go straight thru all stop lights in Soldotna until you cross the Kenai River Bridge) while crossing the Kenai River Bridge stay in the right lane (sweeping right turn) onto Kalifornsky Beach Road (K-Beach Road).  Once on K-Beach go 5 miles to the 3rd TRAFFIC LIGHT and turn right on Ciechanski Road, once on Ciechanski follow the signs to the Resort, about 2.5 miles. 
Clothing & Gear:
We suggest you bring clothing that can be layered.  Alaska's weather is ever changing and generally, the mornings are cool, requiring the most clothing. All of the items that we suggest will keep you comfortable on those not so perfect days. Remember, you are fishing in Alaska and the weather will vary. Also, there is no set rule for insects, they are always present but not bad in our area.
Medium weight Jacket or Polar fleece top, light gloves & ear muffs for the early morning trips.
Ball cap, Flannel shirts, Jeans and Sweat shirts. 
Rain Suit – good raingear makes the trip so much better!!!  We have raingear but remember they are loaners.  If purchasing raingear, consider a lightweight all rubber gear with sealed seams.
Sunglasses – polarized are better!
Personal items – Kenai Riverbend Resort provides soap, shampoo and hairdryers.
Fishing shoe or boot.  Hiking type boots.  We do have a limited supply of rubber boots at the lodge.
Medications – think about Dramamine/Bonine if salt water fishing.
Camera and/or video camera and film (batteries).
Small backpack or shoulder bag for fishing gear, equipment, lunch and drink. Include zip lock bags to keep your valuables dry.
FISHING
The time of the summer will dictate what fresh water species will be available.  For 2020, King,  Sockeye, Silver and Pink Salmon will all have seasons on the Kenai and Kasilof Rivers. Kings and Silver Salmon can be successfully fished in the salt water as well.  Rainbow Trout and Dolly Varden fishing is best late (Sept).  Salt Water fishing for Halibut is available in Deep Creek/Ninilchik and Homer.  Silver Salmon, Ling Cod, Rockfish and Yellow eye in Seward.
All vessels/guides are insured, licensed and provide all gear, tackle and baits.
All fishing will generally be from a boat.  Sockeye, Pink and Silver salmon will occasionally be from the bank on parts of the river. 
Every group will get a tote to transport their harvested fish.  Once back at the resort we will vacuum seal, freeze and box up to 50 pounds of your catch for each person on a packaged trip, otherwise processing is $1.25 a pound.  Additionally, fish caught on unguided or on self fishing excursions and presented for processing will incur a $3.00 per fish fileting charge.
If you are planning on fishing on your own after your guided trip we do have equipment and nets.   Please bring needle nose pliers, (no forceps) split shot, line cutters, ball bearing swivels and for Pinks and Silvers bring bright colored Blue Fox and Mepps spinners, # 5.  For Sockeye you can locally buy Kenai River setups.  Also Trustworthy Hardware and Sportsmen's Warehouse are both very close to the lodge and will have everything you want at great prices.  We have many guests buy hip boots for under $40.00 and discard them rather than pack them.
FISHING LICENSE – If you are 16 years old or older you will require an Alaska fishing license, which is good for both fresh and saltwater fishing.  There is a one, three, seven and fourteen day license.  NEW  – All fishing license can only be purchased electronically!  Purchase online by going to: https://www.adfg.alaska.gov/Store/.   
Daily fish Limits – Five King salmon yearly; two on the Kenai River and three elsewhere on the Peninsula's rivers or ocean, but only one King salmon per day.  Two Halibut daily, one must be under 28" and 4 per season.  Three Sockeye and Six Pink salmon daily.  Two Silver Salmon in August and Three Silvers daily in September on the Kenai. Three Silver Salmon in Seward (saltwater) during July/August, plus 1 Ling Cod, 1 Yellow Eye and 3 Rockfish Daily.  Restrictions can apply to the King Salmon season in May, June and July on the Kenai River. 
You can leave Alaska with all your fish based on daily limits! 
Guides and Fishing Day:
We suggest a packed lunch, drink, and a waterproof bag or backpack to carry personal gear and lunch, especially on those not so perfect days. 
Most river trips will launch from our private boat launch, otherwise a map; guide contact information and schedule will be available during or after check in. Ninilchik Halibut is a 1-hour drive from the Lodge, Homer Halibut is 1.5-hour from the Lodge, Seward Fishing excursions are a
2-hour drive from the lodge.  You will need to drive to these locations.   Please be on time!  Our guides are passionate and most like to be on the water early as the early bird get the fish!
We offer free use of a spinning rod for evening fishing.  We generally have adequate numbers on hand.   Please pack terminal tackle, i.e., pliers, split shot & swivels.
Our guides are Kenai Riverbend Resort Guides, Local Guides that we have used for years and guides that have worked for us in the past that have started their own guiding business.  They are all great guides and will work hard to get you fish! 
Weather:
Our weather can vary from week to week in the summer and for your best up to date information, go online to get the latest weather forecast for our area. Also, as a general rule, our mornings are cool, warm by mid day and our evenings are very comfortable.  Rain is always unwanted; however, it always finds its way to us off and on throughout the summer. Rain can change our temperature by 20 degrees, please come prepared. 
HIGH SEAS – we will cancel Salt Water trips due to High Seas dependent on the recommendation of the Captain.  We will try our hardest to make sure we can reschedule the trip but at times we will be unable too.  We will substitute other trips to make sure you are fishing.  Weather is something we cannot control! 
Kenai Riverbend Resort
Is comprised of a 49 acre estate and managed to the highest standards.  Each unit is fully furnished and includes a mini kitchen, full size fridge and daily housekeeping.  Each morning a complimentary breakfast is served in the Lodge and is open to accommodate the earliest trips. 
The office has WI-FI, however, due to high usage you may want to use your providers hotspot.
We do not have quiet hours but we ask you to please be respectful of your neighbor.  
Final billing, trips upgrades, additional trips and purchases may be satisfied by payment in cash/check/ credit card.
All linen, bedding, towels, kitchen utensils, shampoo and soap are included with lodging.
Fish Processing:
 

Included in your

 

packaged

 

trip:  we will fillet, vacuum seal, freeze and box up to 100 pounds of your fresh catch

 

(package clients only – this is a per person benefit.)  Over 100 pounds, fish will be processed at $1.25 per/lb and $25.00 per box. Fish caught during evening fishing will incur a $3.00 per fish fillet charge.  Also, included is an insulated airline approved fish box. For the best value, you can take up 50 pounds as an added piece of luggage on most airlines for $35.00 to $50.00.  Fed Ex is expensive, typically over $250.00 for overnight shipping. 

 

IF YOU CHOOSE TO OVERNIGHT YOUR FISH HOME, YOU'LL HAVE TO PAY FOR SHIPPING FEES.

 

Also, Airlines have changed their

 

luggage allowances',

 

please check with your carrier.  Pack Light!!  We have laundry at the lodge.
Car Rentals/Hotels in Anchorage
We recommend off airport rental locations. You can save hundreds of dollars.  Adventure Alaska Car Rental/ Ron Nieman 1-877-227-0650 and Alaska Auto Rental /Dave Justice at 888-865-2626.  They offer unlimited miles and weekly rates.  Check out www.kayak.com for rental cars for Airport rentals – higher rates!  All major Rental agencies are at the Anchorage Airport.   You will need a car to get to the Halibut and Seward Fishing departure areas.  Plus you can see the sights. 
When considering the size of your rental car, please consider each person will probably have one box of fish or more.  Boxes are 34" x 12" x 11" per 50 pounds of fish.
Hotel – Coast International 1-800-716-6199 with a 24-hour airport shuttle and the best rate in Anchorage.  Continental breakfast.  Booking #266437
Gratuities
Foremost, the guides/staff thank you.  The most frequent questions asked is, "what should I leave the guides & staff for a tip"? This is a suggestion only!  Guides/Captains generally receive 10% to 20% of the trip cost.  Housekeeping/Office staff/Fish House Boys are at $10.00+ each per day.   You may also include a total gratuity of 10% to 20% to your final bill that we will disburse at your suggestion.  Again, these figures are suggested. Please, base your tip on your service.
Trip Insurance/Disclaimer of Liability
Please consider a travel policy that would cover illnesses, trip cancellation and accidents abroad. Also, feel free to call Travel Guard at 1-877-248-8992 or www.travelguard.com they are a national carrier who specializes in trip insurance. Generally, trip insurance is about 5% to 9% of your trip cost. New is their Sportsmen's travel package; it offers comprehensive coverage for traveling sportsmen that includes travel, emergencies, cancellation and lost equipment.
Kenai Riverbend Resort reserves the right to makes changes for the safety and proper handling of clients.  We are always aware of safety, however outdoor activities of this nature is not risk free. At times trips on the ocean will be cancelled due to weather. Kenai Riverbend Resort reserves the right to substitute these trips.  We do not assume responsibility for injury to clients, personal belongings or for time and expense incurred.  Upon making the deposit to Kenai Riverbend the depositor agrees to be bound by all of the above stated terms and conditions.  Prices are subject to change. 
Soldotna & Kenai Area
Geographically, there are 4 food markets within 8 miles to shop for your menu items.  Also, there are a good variety of restaurants within the Kenai/Soldotna area.  If you visit – http://visitsoldotna.com you can view the Soldotna visitors guide for more information.
Office staffed from 5:00 am to 10:00 pm daily. Knowledgeable Staff!
We use only the best guides, boats and gear on the market.
Willie Boats, G-Loomis, Shimano and Simms Sponsored Lodge.
We clean your fish and process (vacuum seal, freeze and box your catch) on all packaged trips.
 Again, the Riverbend family would like to thank you for selecting us as your Alaska fishing destination and we will see you soon.  In business for 39 years, our goal is to provide you a safe and exciting adventure in Alaska.   Please let us know if you have any questions.
MOST FREQUENTLY ASKED QUESTIONS
How do I get to Kenai Riverbend Resort?
All of our clients fly into Anchorage Alaska.  From Anchorage they rent a vehicle and make the 3-hour drive to Soldotna.  The drive is very beautiful and full of scenery.  It is also a very easy drive.  Some of our clients prefer to fly into Kenai and then rent a vehicle in Kenai.  The Kenai airport is just minutes from the resort.  Ask about special airfares and rental car rents when you call, we work out some great rates for our clients!
Since you only serve a continental breakfast what do I do for Lunch and Dinner?
All cabins have cooking facilities and barbeque grills.  Many of our clients eat breakfast at the lodge, pack a snack for lunch and then go into either Soldotna or Kenai for a nice sit down meal.  Both Soldotna and Kenai have 24-hour grocery stores like Fred Meyer and Safeway.  Restaurants are everywhere and very inexpensive, our local diner/restaurants serves meals for a very reasonable price.
What is the summer weather like?  
Our summers are beautiful, our typical day begins with morning temperatures in the 40's and daytime highs get up to high 70's.  Rain and clouds are possible at anytime but usually do no last long.  We do not have many bugs!
How much daylight do we have in the summer?
From May to the end of August we have an average of 19 hours a day of sunlight.  Rising at 4:00 am and setting at 11:00 pm.  Plenty of time and daylight to do all the things you want while on your fishing vacation! 
How much are Alaska Fishing Licenses?
The lodge sells fishing licenses so do not worry.  License fees for non-residents are 1-day – $20.00, 3-day – $35.00, 7-day – $55.00, and 14-day – $80.00.  If you are fishing for King Salmon you also need a King Salmon Stamp, which are sold in the same increments and prices as the licenses.  For example a 7-day fishing license with a 7-day King Stamp will cost you $85.00.  This license covers you for all types of fishing (fresh and salt).  
What is provided on Fishing Charters? 
Kenai Riverbend Resort provides all of our guided clients with, G-Loomis/Lamiglas Rods, Shimano Reels, baits, and the best boats and guides in Alaska.  Everything is provided just bring yourself!
How big are the boats and how many fish per boat?
Our Kenai River boats are 20' Willie Predator riverboats with 4- stroke Yamaha outboards.  They fish 4 anglers and all boats have deluxe seats with backs and arm rests.  Our Offshore-Saltwater boats are 33' Hatco Offshore Cruisers with twin Yamaha Outboard and 43' Delta Marine Crusiers with twin diesel engines.  They come equipped with state of the art electronics, marine bathroom, heated cabins and a huge deck for maximum fishing space. We fish 4 anglers on our 20' Wille River Boats, 6 on our 33' Hatco Offshore cruisers and up to 12 on our USCG inspected 43' Deltas
How long are the Trips?
Most of our trips are 6 -10 hours. Saltwater trips start at all times of the day due to tidal movements therefore some trips may start at 5:00 am or 12:00 (noon).
How big are the fish?
Alaska is known for our gigantic fish.  Expect King Salmon from 25-80 pounds, Silver Salmon from 8-20 pounds, Sockeye Salmon from 6-15 pounds, and Pink Salmon from 4-12 pounds.  Our Pacific Halibut average 25-50 pounds with many over 100 and some into the 200-pound class. Ling Cod to 60 pounds and many 5-10 pound rockfish.  Our expert guides will instruct each client with all the techniques and secrets of getting these huge fish in.  
How do I get my fish home?  
Most packages include one box (50 pounds) of processing.  We fillet, vacuum pack, freeze and box your catch in airline approved insulated boxes for the trip home.  Extra boxes are $65.00.  Most of our clients take their fish back as checked baggage on the airlines.  Your fish will stay frozen in our boxes for up to 24 hours.  Remember to pack light, to take fish back home with you and cut freight costs.  We can also ship Fed Ex next day air if you prefer (extra charge).  
What clothes should I bring? 
Pack Light!  Dress is very informal in Alaska.  You could wear the same jeans and shirt for a week and nobody would look at you differently.  We recommend jeans, sweatshirts, tennis shoes and knee-high boots and rain gear.  Dressing in layers is the way to go and remember you can always take clothes off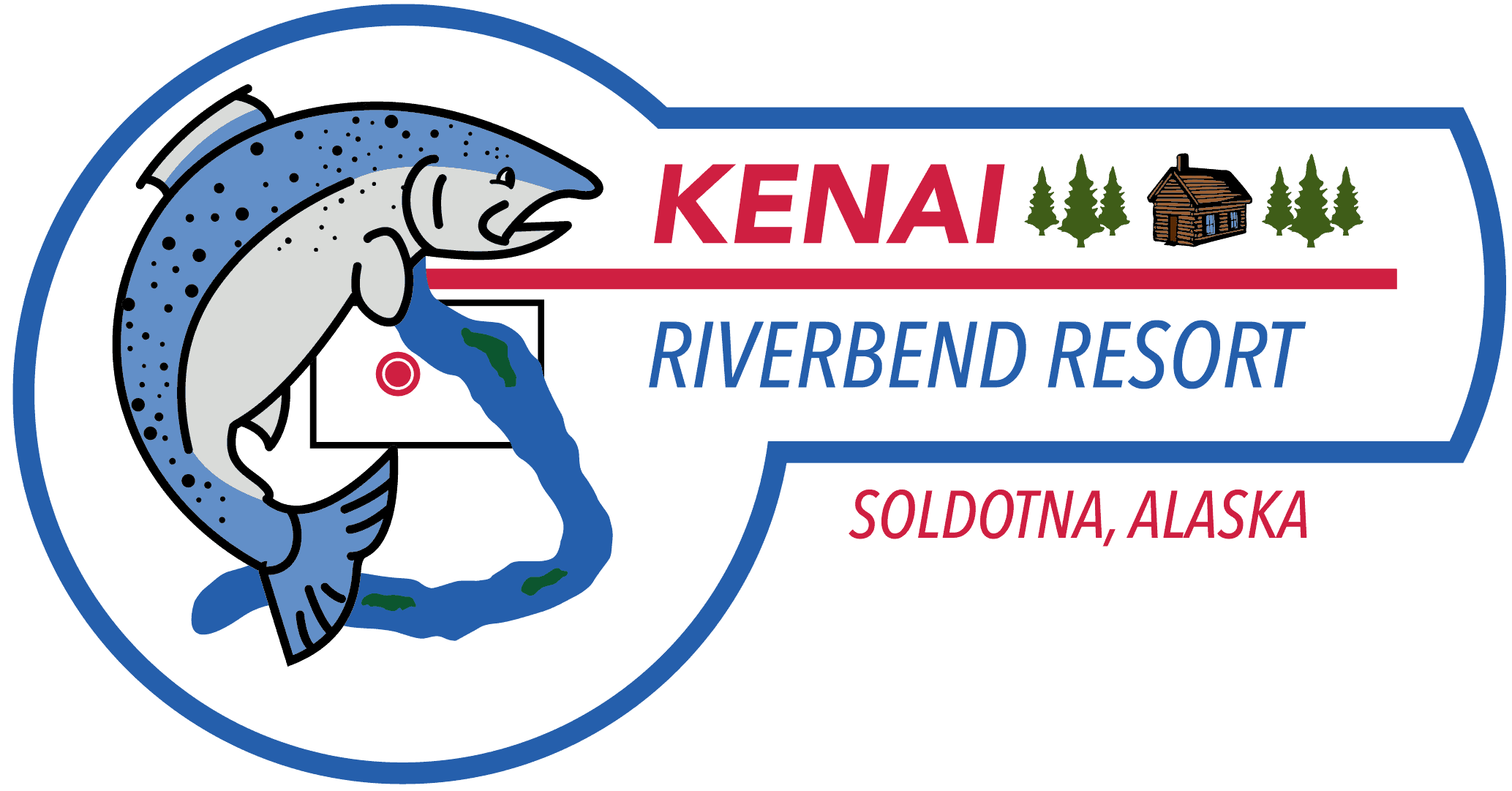 P.O. BOX 1270
Soldotna, Alaska  99669
E-mail: kenairiverbend@gmail.com 
Toll Free: 1-800-625-2324

Phone: 907-283-9489       
Fax: 907-283-8449